---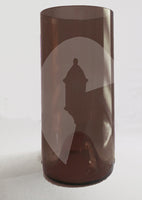 Our vases are taller version of our glasses, but employ the same creation technique: Recylced wine bottles cut and then sanded to a perfectly smoth lip. Using stencils and acid, we create the designs.
This vase features a design called "Garita" in the "Night" version. Various colors are available. Be sure to specify.

Not all colors can make a vase of the same size, though we try to use straight sided tall bottles for all our vases. Allow three weeks.