---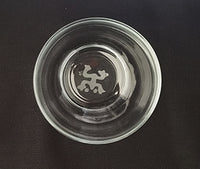 The coqui on our glass bowl is etched with acid, just like our recycled wine bottle glasses.
The bowl itself is sturdy, clear glass, and is 6" in diameter, a size perfect for cereal or ice cream. It is dishwasher safe and suitable for food use.
We make these bowls at our warehouse in Puerto Rico from glassware purchased in the US.
These bowls coordinate with our Large Etched Coqui Plates, Small Etched Coqui Plates and our Small Etched Coqui Bowls. You will save $1 each on all items (any mix of these plates and bowls) when you buy them at the same time.
The decoration on these plates is done by hand, and therefore you may see slight differences in the coquis. This is part of the beauty of hand-made items and not a defect. Likewise, the plates we buy are made by a small firm in Mexico, and they have distinguishing marks, sometimes a tiny notch at the edge, or a tiny number stamped on the bottom. These marks are part of the manufacturing process. They are not defects.